Welcome to Our Savior's Lutheran Church
All are welcome... We saved a seat for you.
Sunday at 9:30 am and Wednesday at 6:00 pm
Join us for in-person worship on Sunday and Wednesday! If you are unable to join us in person, you can tune in on YouTube for the live stream of Sunday's service or catch the replay on-demand on our YouTube channel or the video playlist below.
Follow us on Facebook and Instagram for updates, devotionals, and virtual fellowship.

You can like, follow and subscribe with the buttons below.
If you are looking for a church home and are interested in becoming a member of Our Savior's, please contact Pastor Jeff, or call the office at (507) 331-2276 for information about upcoming "New Member" classes. 
Thanks for checking out our website! Our Savior's is a vibrant and grace-filled congregation. I want you to know that faith grows here. I've witnessed it. I've experienced it. And our members want you to know that YOU are welcome at Our Savior's. The people of our church are saints and sinners. They are regular folks who strive to follow Jesus, love each other, and serve in their daily lives.
I've been the Lead Pastor of OSLC since December of 2017. Before that, I served churches in North Dakota and Minnesota, as a Hospice Chaplain, and as an Intentional Interim Pastor.
Lisa (my wife) and I met and married as college students. (She's the best "thing" that ever happened in my life.) We have a son and three daughters, a daughter-in-law and two sons-in-law, and 4—soon to be 5 grandchildren!  There's nothing better than spending time with my family. I love books, movies, music…and good food! But, not necessarily in that order. Don't hesitate to reach out by phone or email. 
Blessings! Pastor Jeff
Favorite Bible Verse: Return to the Lord your God, for God is gracious and merciful, slow to anger and abounding in steadfast love. 
Joel 2:13b 
Grace and peace to you! My name is Drew Yackel, and I'm grateful to be serving as OSLC's associate pastor alongside an amazing staff and energized congregation filled with gifted people. Jesus was known for welcoming all kinds of people to the table and empowering them to live into the abundant life he offers by his unconditional love and grace. That's what I think ministry is all about, and I'm excited to continue discovering what that looks like for each individual and community. My family and I live in Northfield where my spouse of 11 years, Angel, serves as nurse practitioner for student health at Carleton College. We have two children – our daughter Maggie (5) and our son Simon (2). Some of my interests include history and anthropology, cooking, gardening, golf, listening to music, playing guitar and singing, listening to podcasts, and travel – especially the kind of travel that involves exploring historic cities and eating good food. Oh, and watching Vikings football and naively hoping they could go all the way this year! My favorite Bible verse(s) is Luke 4:18-19, "The Spirit of the Lord is upon me, because he has anointed me to bring good news to the poor. He has sent me to proclaim release to the captives and recovery of sight to the blind, to let the oppressed go free, to proclaim the year of the Lord's favor."
My name is Lisa Sandgren, and I am the Children's Ministry Coordinator. I have worked in several churches in my lifetime, always in the areas of music and education. I have a degree in Elementary Education and a minor in Music from Augsburg College (now University) in Minneapolis. While in college, I met Jeff Sandgren. We have been married 40 years and have 4 adult children. We enjoy spending time with our family, especially our 5 grandchildren. One of my favorite Bible verses (too hard to pick just one!) is Psalm 92:1-2: "It is good to praise the Lord and make music to your name, O Most High, proclaiming your love in the morning and your faithfulness at night." I love music and I love to sing! Music is something that is with you your whole life, from birth to death. Praising God and remembering his love all day long every day is something everyone can do. It is good to be at OSLC sharing God's love with you and praising him together.
Hello! My name is Grace Harrison, and I am the Director of Youth and Young Adult Ministries. My husband and I moved to Morristown, MN this past summer (2022), and I am grateful to have found Our Savior's. I have a master's degree from Garrett Evangelical-Theological Seminary and an undergraduate degree from Augsburg College (now University). I have a passion for ecological & public ministry. Please ask me about it! I enjoy spending my free time with my little cousins, exploring nature, reading a good book, or cuddling with my three cats. My favorite Bible verse is Romans 8:38-39, "For I am convinced that neither death, nor life, nor angels, nor rulers, nor things present, nor things to come, nor powers, nor height, nor depth, nor anything else in all creation will be able to separate us from the love of God in Christ Jesus our Lord." I am comforted knowing that God's love for me, and all of us, runs very deep.
Hey! My name is Megan Dalland, I am the Business & Finance Administrator for our church. I work on the office side of things but you may see me bounce around anywhere to help.  I live in Owatonna with my daughter Olivia who always keeps me on my toes. If not, you will probably find me in my office juggling the business needs of the church. I love reading, spending time with my family, and any time on the water beats a day inside. My favorite bible passage is: 1 Timothy 6:12 "Fight the good fight of the faith; take hold of the eternal life, to which you were called and for which you made the good confession in the presence of many witnesses."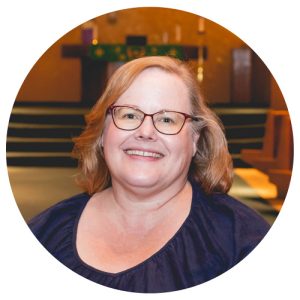 Hi, my name is Wendy Smith-Becker and I started working at Our Savior's in July of 1999, this year will mark my 20th year of service here. My role at OSLC is working in the church office, greeting people, answering phone call, scheduling, printing, bulletin work, AND more. My family consists of my husband Tim, our five children, two children-in-laws, and three grandchildren. I love spending time with my family, traveling to Florida, and making birthday cakes for my grandchildren. My favorite Bible passage is Psalm 46:10.