Welcome to Our Savior's Lutheran Church
All are welcome... We saved a seat for you.
Sunday at 9:30 am and Wednesday at 6:00 pm
Join us for in-person worship on Sunday and Wednesday! If you are unable to join us in person, you can tune in on YouTube for the live stream of Sunday's service or catch the replay on-demand on our YouTube channel or the video playlist below.
Follow us on Facebook and Instagram for updates, devotionals, and virtual fellowship.

You can like, follow and subscribe with the buttons below.
If you are looking for a church home and are interested in becoming a member of Our Savior's, please contact Pastor Jeff, or call the office at (507) 331-2276 for information about upcoming "New Member" classes. 
Youth Activities this Summer!
Thursday, June 15th: 
ART PROJECTS
Register by June 12.
Thursday, July 14th:
GAME DAY
Register by July 11.
Thursday, August 11th:
MAKE-A-MEAL
Register by July 11th

K-2nd Grade: 9-11 a.m. 
3rd-5th Grade: 1-3 p.m.
(Grades completed for 2021-22 school year)
Thanks for checking out our website! Our Savior's is a vibrant and grace-filled congregation. I want you to know that faith grows here. I've witnessed it. I've experienced it. And our members want you to know that YOU are welcome at Our Savior's. The people of our church are saints and sinners. They are regular folks who strive to follow Jesus, love each other, and serve in their daily lives.
I've been the Lead Pastor of OSLC since December of 2017. Before that, I served churches in North Dakota and Minnesota, as a Hospice Chaplain, and as an Intentional Interim Pastor.
Lisa (my wife) and I met and married as college students. (She's the best "thing" that ever happened in my life.) We have a son and three daughters, a daughter-in-law and two sons-in-law, and 4—soon to be 5 grandchildren!  There's nothing better than spending time with my family. I love books, movies, music…and good food! But, not necessarily in that order. Don't hesitate to reach out by phone or email. 
Blessings! Pastor Jeff
Favorite Bible Verse: Return to the Lord your God, for God is gracious and merciful, slow to anger and abounding in steadfast love. 
Joel 2:13b 
My name is Kira Anderson and I am proud to be a part of Our Savior's Lutheran Church as their Director of Faith Formation and Congregational Life team member! My husband, Mitch and I have three kids; Claire (7th grade), Owen (6th grade), Grace (2nd grade). We are a soccer playing, lazy day at the lake, campfire and smores kind of family. 
Although Our Savior's has been a place of employment for 10 years, this place is more than just a job. I was baptized, confirmed, and married at this church. I am currently in my final year at Luther Seminary and look forward to receiving my Master of Divinity in June 2022. 
Matthew 4: 19-20 reads "Come, follow me, and I will show you how to fish for people!" I love sharing the gospel of Christ with all generations. We are called to live out our Christian faith as disciples and fish for people, to share the word of God with them. I look forward to ministry with all people as we learn how to be the church in today's world!
My name is Lisa Sandgren, and I am the Children's Ministry Coordinator. I have worked in several churches in my lifetime, always in the areas of music and education. I have a degree in Elementary Education and a minor in Music from Augsburg College (now University) in Minneapolis. While in college, I met Jeff Sandgren. We have been married 40 years and have 4 adult children. We enjoy spending time with our family, especially our 5 grandchildren. One of my favorite Bible verses (too hard to pick just one!) is Psalm 92:1-2: "It is good to praise the Lord and make music to your name, O Most High, proclaiming your love in the morning and your faithfulness at night." I love music and I love to sing! Music is something that is with you your whole life, from birth to death. Praising God and remembering his love all day long every day is something everyone can do. It is good to be at OSLC sharing God's love with you and praising him together.
Greetings! My name is Ruth Hickey and I have been a member of Our Savior's Lutheran Church  since 1993. I have found this faith community to be welcoming, vibrant and willing to serve. My position is Lay Visitation. I started this position in September 2020.I do visitation with seniors, members in nursing homes and those in need of healing. My role is to listen, care and offer support. I am married to my husband Herb for 25 years; we have 3 adult children, two daughter in-laws and six lovely grandchildren. I love to spend time with my family, read books and watch movies. My favorite bible passage is: 1 Corinthians 13.
Hey! My name is Megan Dalland, I am the Business & Finance Administrator for our church. I work on the office side of things but you may see me bounce around anywhere to help.  I live in Owatonna with my daughter Olivia who always keeps me on my toes. If not, you will probably find me in my office juggling the business needs of the church. I love reading, spending time with my family, and any time on the water beats a day inside. My favorite bible passage is: 1 Timothy 6:12 "Fight the good fight of the faith; take hold of the eternal life, to which you were called and for which you made the good confession in the presence of many witnesses."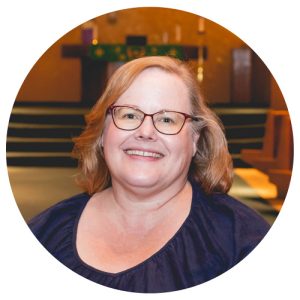 Hi, my name is Wendy Smith-Becker and I started working at Our Savior's in July of 1999, this year will mark my 20th year of service here. My role at OSLC is working in the church office, greeting people, answering phone call, scheduling, printing, bulletin work, AND more. My family consists of my husband Tim, our five children, two children-in-laws, and three grandchildren. I love spending time with my family, traveling to Florida, and making birthday cakes for my grandchildren. My favorite Bible passage is Psalm 46:10.